Episode 14
Moving forward with courage: believing in self
Are you holding shame from your past? Were you told negative statements that have influenced your life? These do not have to rule your life any more. It is time to believe in yourself and become the real person you are meant to be in your story. In this episode, I share my story in being bold to face adversities and confidently proclaim I am no longer a slave to the negative words that were constantly told to me as a child.
Episode 13
Forgiving others, Releasing self
One of the hardest concepts to do is to forgive those who have hurt us, but it is also one of the most releasing, uplifting, empowering actions we can do. I share my heart and personal story on a journey of forgiveness from those who have abused me.
Included in this episode is part of a song I wrote on this topic – 'A new reality begins'. The full version of the song with imagery and words can be viewed at https://youtu.be/9Vv_bWEsors
Episode 12
Releasing our burdens: back to grass roots
When we are swamped by the world around us and weighed down by burdens, getting back to the grass roots is one of the best things we can do. In episode 12, I talk about some simple strategies to ground yourself and find yourself in a moment that you will thank you for and others around you! To unearth a moment if you have to be in it.
Episode 11
Empowering our kids to become warriors
As the school year returns, many kids are anxious about the year ahead, and we want to empower them. Trauma informed counsellor, Heather Pinel, shares with us her expertise and experience as a parent in how we can change our perspective and our kids perspective from bullies in our head and in the playground.
A must listen for any parents with children at school or for adults who are dealing with negative comments inside their brain and/or at home or work.
Feel free to download the toolkit below of the key points Heather raises to go through with your children (or for yourself), included are links to resources.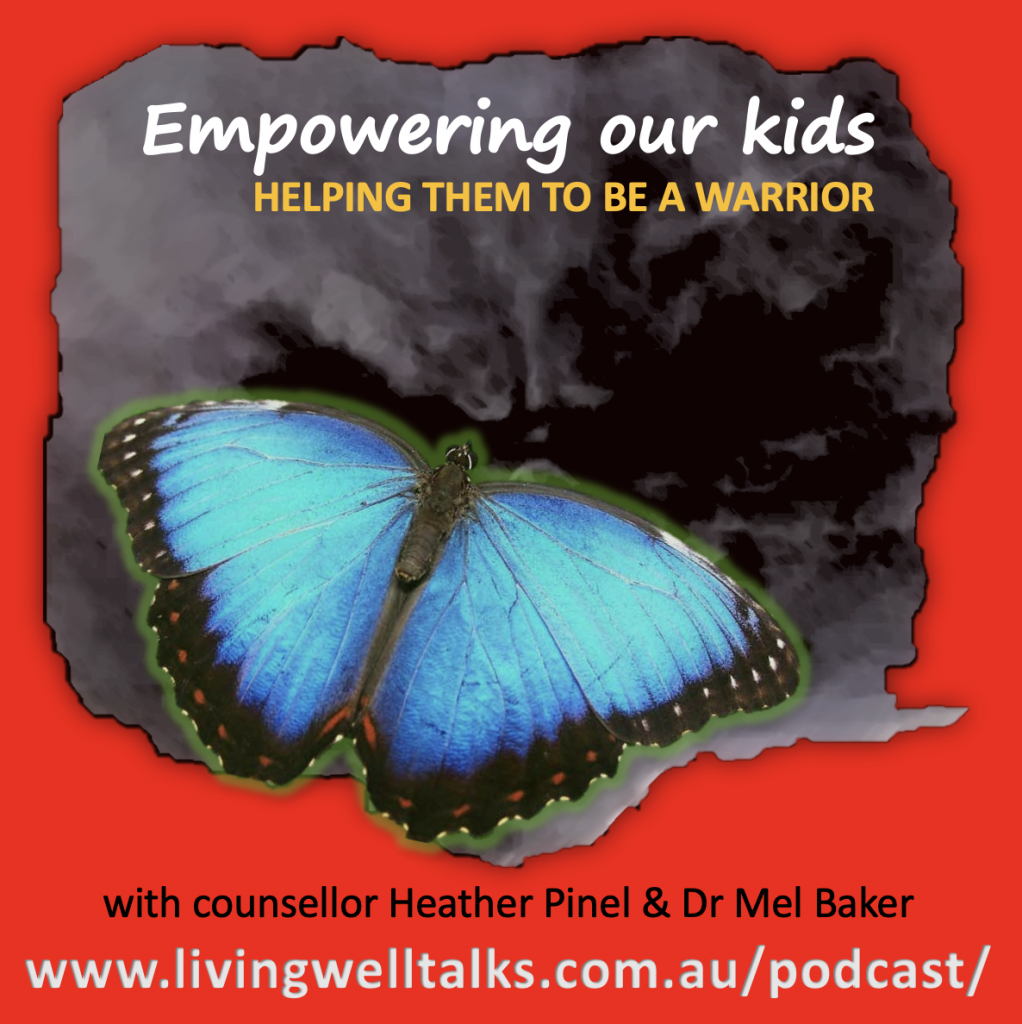 Episode 10
Linking the tragedies of 2020 for a sustainable future
2020 saw life as we know it change. Did you notice the positive changes too?
16 year old Anchal Singh from India, challenges us to look at what needs healing, not what we have lost.
Rocco Jarman from Perth WA, Eyes Wide Open Life, challenges us to engage in more mutual connectedness and to engage more in critical thinking than we have ever done before.
I challenge you to experience life – to connect more with each other and with nature, to boldly stand up with courage for justice for all people and to make wiser choices.
I hope you are empowered to rise up.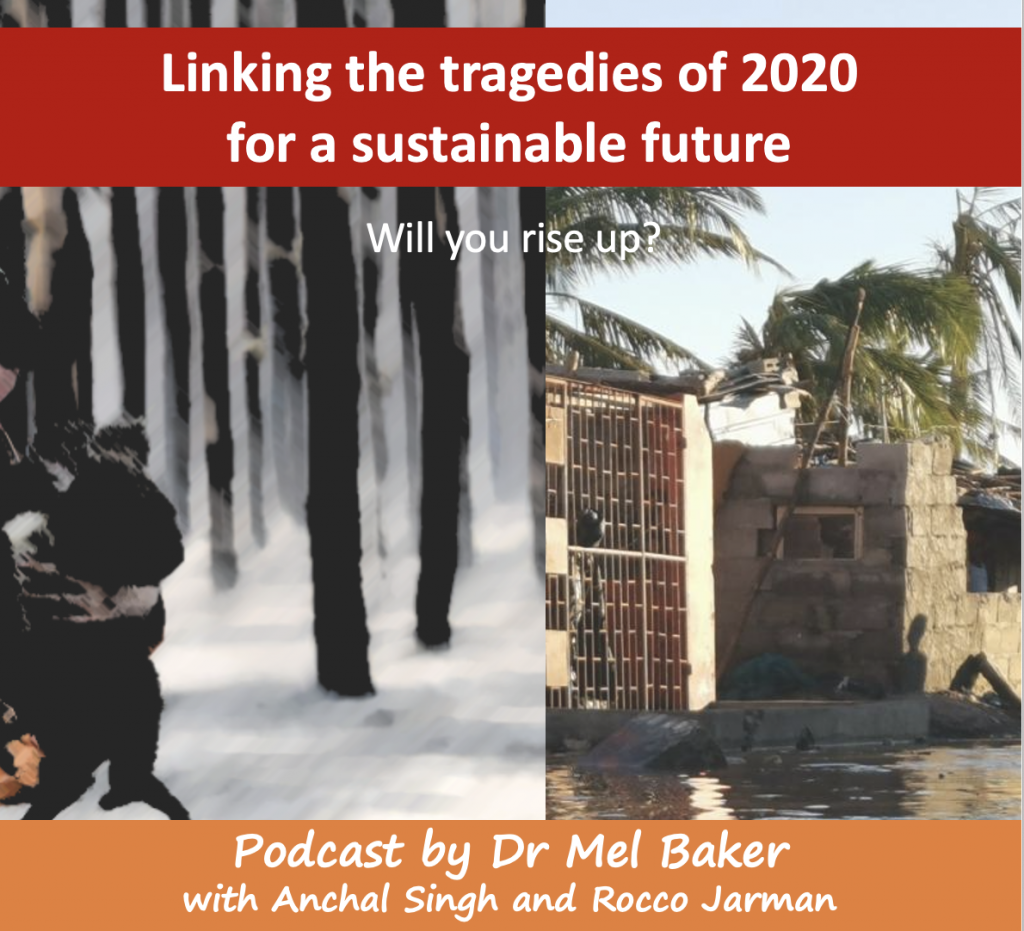 Episode 9
Living your purpose: poetry from Anchal Singh
In this episode, we are reminded to be free to be ourselves, to not give up on our dreams, but to strive towards our purpose. Anchal Singh, 16 years old from Northern India shares with us three of her poems. Be inspired! Believe in you! Live your purpose!
I have developed a tool to help people discover their passion, purpose and meaning in life. You can download it from my wellbeing website.
Unchain your purpose and meaning (last tool on page).
Episode 8
Going off the grid: subconscious tools
Have you taken the time to really switch off? Switching off from the world, especially online, is one of the best things you can do for yourself. I have developed 3 subconscious tools (drawing, movement and words) to help you calm your being and express what is hidden deep inside of you. I also discuss the way our brain functions following a traumatic event or trigger and how brain waves work out of my research in order to understand the techniques.
The free PDF tool kit includes step-by-step instructions, self-awareness individual assessment and personal examples. When you decide to take time off the grid, your body, mind and spirit will thank you for it.
Instrumental piece: Agape Cries from my music CD 'A two way street'
Episode 7
Gaining resilience out of discomfort
Inspired by our conversation in episode 6, I examine my own life battling some recent traumatic memories. I share the steps I took to overcome from the bottom of the pit to regaining my life again, including giving up meaningless activities and alcohol.
If you would like to know more about your core values, go to a tool I created – here.
Episode 6
Enlightening conversation between a philosopher and an educator
A conversation between a Philosopher, Rocco Jarman from WA, and an Educator, Mel Baker from NSW.
How do we create more meaning in life? How do we help the younger generations in this current climate of disconnection? How do we get to actualisation and why is sitting in discomfort so important?
Episode 5
Uncertainty
We live in uncertainty every day, but this year of 2020 uncertainty seems to have gone to the extreme! This episode reflects upon this and I read a chapter of my book published last year Painting Beauty with the Ashes that looks at this very subject.
Dear Uncertainty …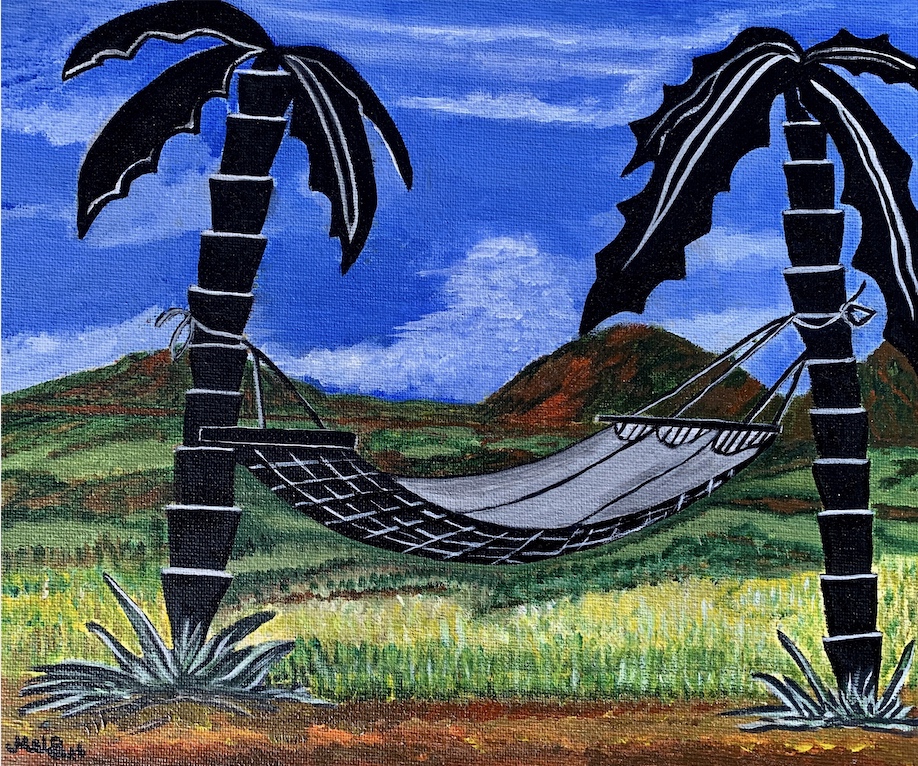 Episode 4
Animals healing trauma
I had the opportunity to learn horsemanship skills with Scott Brodie and other military veterans. It was through connection with nature and ex-racehorses that I found healing. I reflect on a recent encounter with a Thoroughbred and then it picks up on parts of a radio interview I did with 3Quirks and a Turk earlier this year.
Episode 3
Conversation with Paul Elderkin
Paul, co-founder of Starting Five, and I discuss how important it is to have connection and resilience in times of stress, trauma and uncertainty.
You can read Paul's story and my story in the latest issue of Living Expressions publication
Episode 2
The power of words and action
I reflect upon a traumatic day and how I could change the negative emotions to positive ones. We have the power within ourselves to change our thought patterns.
Episode 1
Empowering community, empowering each other
Dr Mel Baker shares her story from nearly taking her life at 16 years of age to empowering people all over the world through her lived experiences. This is her heart to share and inspire others. Let's reach out and help one another.